Latest technology and design totem displays at Fiumicino Airport
Last December, the new international boarding area "E" at Leonardo da Vinci Airport, dedicated to Extra-Schengen flights, has been inaugurated.
The new area, approximately measuring 90,000 square meters, was completed on schedule, with maximum efficiency and without additional land consumption. The infrastructure is state-of-the-art in the European Union and will accommodate over 6 million extra passengers per year.
With a total amount of 22 new gates, the airport's boarding capacity related to Extra-Schengen destinations will effectively double.
The project consists of two large structures, directly linked to each other: an innovative pier reserved to flights, with innovative boarding and disembarking exits, and an exclusive shopping gallery, a sort of Made in Italy Square, one of the largest created in a European hub. In accordance with environmental integration logic, the façade of Terminal 3 was also inaugurated: entirely made of glass, the project was inspired by the original design by the architect Morandi in the '60s and enhanced with the latest technology.
Contemporary design of totem displays
Among the functional technological innovations introduced in the new, recently inaugurated area, the totem displays redesigned by ONdesign, strategically located in front of escalators and forced passages, are conceived to provide fast information to users.
The essential and contemporary design, the use of metallic colors and linear structures allow these devices to perfectly integrate into the surrounding environment, in a futuristic architectural context, totally revalued with new technologies and materials. Also the information icons, very simple and easy to understand, are carefully designed and coordinated with the official graphic of the airport.
Taking into account every detail, in order to ensure the security of the large number of people moving through this public space, we have devised the need to add, on the totem's side, a button which easily allows to stop the escalators in case of malfunction or emergency. Furthermore, the displays provide the users with a correct and fast information visualization, even in a big and crowded place like the Fiumicino Airport.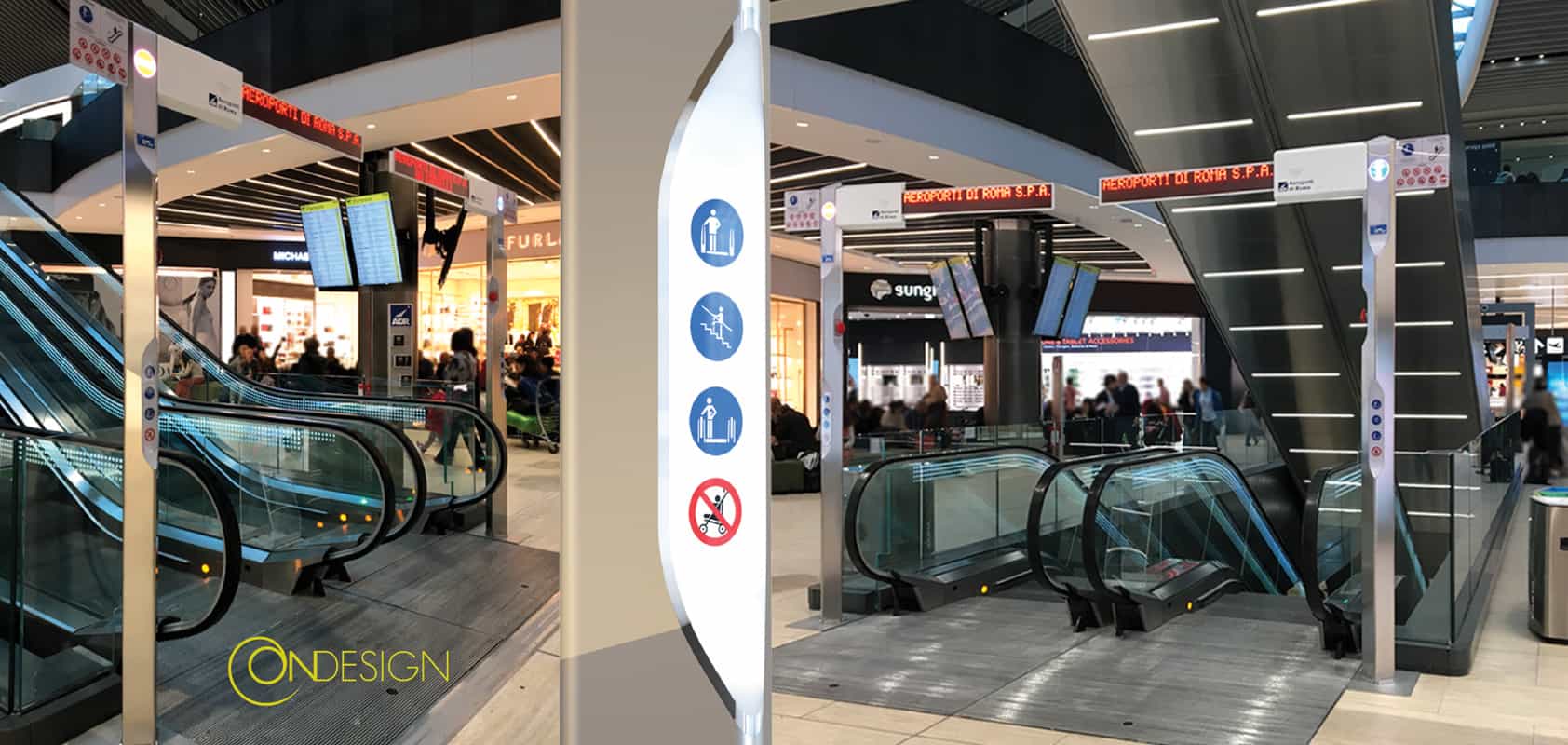 Do you like to be #ONdesignONair ?
ONdesign is always available to be contacted at:
Email: info@ondesignitaly.com
Phone: +39 06.64520314
Address: via della Piramide Cestia 1
00153 Rome, Italy